The Society of Broadcast Engineers
Chapter 36 - San Diego, California
No, he's not burying a cat. Jack Williams of Pacific Research & Engineering is breaking ground on the company's new 100,000 square foot building on South Melrose in Vista. Lusardi CEO John Bailey is looking on. What's wrong with this picture? (Hint: Who's paying the bill here, anyway?) The building should be ready to move into by December. They've been on Las Palmas Boulevard in Carlsbad since 1983.

Photo from Clark Novak
June 1998 Electronic Newsletter
---Please Support Our Great Sponsors!---
June Meeting
Going T1 for Fun and Profit
Dan Rau, Director of Sales for Intraplex will present the basics of T1 for broadcasters. Topics include the origin of T1, framing and coding of the T1 circuit, reasons for using T1 in broadcasting. He'll also cover T1 transmission formats including wire, fiber, microwave, satellite and the new spread spectrum radios. The session will conclude with some real world applications of T1 in actual broadcast environments.

Intraplex, Inc. develops and markets integrated digital network access products for users that demand exceptional audio quality, efficiency and operational reliability. Intraplex transmission enhancement technology ensures successful communications even under adverse network conditions. Users of Intraplex products included ABC, CBS, NBC, NPR, Westwood One, BBC, Korea Broadcast System and more.

Host of the presentation is Tony Mezey of Audio Broadcast Group, a great supporter we don't get to see often enough. Join us June 17 at 7 p.m. at the Kearny Villa Road Jacor Broadcasting facility, 5745 Kearny Villa Road, Suite M. Social hour starts at 6 p.m., with food and beverages by ABG. Come hungry. Come early.

Take Highway 163 to Clairemont Mesa Blvd and go east. The first stop light is Kearny Villa Road. Make a left (north) and drive about a mile until you reach 5745 Kearny Villa Road. Jacor is in a business park at the far end of the park on the left side of the two rows of buildings. You can park anywhere there's room except in the fire lanes.
---
Last Month:
Leitch's DTV Road Show a Hit!
Judging by the large turnout at the May 20 meeting, DTV has arrived in San Diego. At KPBS, Mike Duckworth of Leitch gave a decidedly non-commercial 2-hour presentation on digital television to an attentive crowd of more than 40. Surely frustrating was the fact that the talk had been boiled down from its normal six-hour length.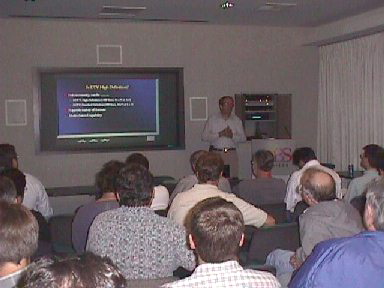 Mike encouraged stations conduct a progressive transition to digital using common 4:2:2 equipment, and showed economical start-up configurations for network affiliates.
Some stayed after the long presentation to see the nearly completed KPBS television plant. Mike Tosch and Scott Stinson impressed a few guests. Wows and gee whizzes echoed through the halls.
Have an idea for a future meeting? Contact us!
[GS]

---
Top Story
Galaxy IV: Exit, Stage Right
By Gary Stigall

On the afternoon of Tuesday, May 19, I was in the KFMB-TV Master Control Room when the operator looked over her shoulder and asked, "So what's the deal with Net Primary?" There was no signal beyond the random cosmic rays and thermal noise which compose "snow."

Rick Bosscher called CBS New York Satellite Operations. They answered the phone, "Satellite's down." What? How could Galaxy IV just go "down?"

At the moment, the problem seemed benign. It was just after 3 p.m., so we had already started airing syndicated programming.

Elsewhere, it was not so simple. The newsroom was still recording closed circuit national news feeds. ABC News feeds to KGTV were interrupted as well. KNSD and XETV had syndicated show feeds interrupted and had to scramble for alternate re-feeds or run old tapes. NPR affiliate KPBS lost "All Things Considered" and had to get the feed via phone lines.

In fact, the biggest inconvenience was the loss of most national pagers, including PageNet and AirTouch, two of the largest local suppliers.

Owner of the Satellite is PanAmSat . Robert Bednarek, Senior Vice President and Chief Technology Officer said Friday, May 22, "PanAmSat has not transmitted any communications traffic on Galaxy IV since the on-board spacecraft control processor (SCP) anomalies of May 19. We do not expect to be able to use the satellite for communications services again. Last night, we moved Galaxy IV from its orbital location of 99 degrees West Longitude to a safe, higher orbit, where it will remain for the near future. The C-band Galaxy VI satellite is currently moving in space and will be available for customer service at the 99 degree orbital location on Wednesday, May 27. A little reported fact is that PanAmSat itself had known of the control anomalies and had been crossing its fingers. KFMB-TV operators had reported fades in the CBS Primary signal for the previous two weeks. As reported by Bob Gonsett in the CGC Communicator , a May 15 Securities and Exchange Commission 10-Q filing by PanAmSat noted the problems:
"Subsequent to March 1998, the Company became aware of certain anomalies and their effects relative to its Galaxy IV spacecraft which serves the domestic U. S. marketplace. These anomalies are expected to shorten substantially the useful life of the satellite and to affect services to some of the C-band transponder customers on the satellite. Management is evaluating the effects of these anomalies and is working with its customers to develop plans to meet their requirements and to satisfy the Company's obligations to certain of the customers. The Company intends to procure a replacement satellite on an accelerated basis for a scheduled in-service date before the Galaxy IV spacecraft reaches the end of its expected useful life...."
Why all the fuss? Well, just look at the chunk of space this satellite occupied. This is the 5th Avenue manhatten of birds, with a 99-degree west longitude and a footprint that covered the 48 states without having to breath hard.

Since the loss, PanAmSat has scrambled to put its customers on the other Galaxy birds. The Ku services such as pagers and network ENG services went primarily to neighboring Galaxy IIIR. The C-band Galaxy VI satellite was moved in space and became available for service at the 99-degree orbital location on Wednesday, May 27. KFMB-TV moved its primary CBS dish back to this look angle on May 28.

What about poor Galaxy 4? Says Bednarek, "PanAmSat has not transmitted any communications traffic on Galaxy IV since the on-board spacecraft control processor (SCP) anomalies of May 19. We do not expect to be able to use the satellite for communications services again. Last night, we moved Galaxy IV from its orbital location of 99 degrees West Longitude to a safe, higher orbit, where it will remain for the near future."
---
San Diego Shorts
Reading the Label
By Gary Stigall

Bob Baxter, engineer at KFMB-TV, was filing a Material Safety Data Sheet the other day and glanced at some of the listed hazards:

Ashland Chemical Co.

         ETHANOL CDA19           ANHYDROUS         MSDS No. 999.0030848-004.006

...yada, yada, yada...

         3. HAZARDS IDENTIFICATION
               Potential Health Effects

               Swallowing
                
                   Swallowing small amounts of this material during normal  
                   handling is not likely to cause harmful effects. Swallowing  
                   large amounts may be harmful.  
                
               Inhalation
                
                   Breathing of vapor or mist is possible.
If only my mother had sent me with this warning before I hit the road for college...
---
New Members
Welcome to Nigel Worrall
It's rewarding to see new faces at the chapter meetings. With the earlier start time again, and the big turnout for the May meeting, many had time to strike up a conversation with a new or seldom seen colleague. I was able to meet a bright new transfer from Sacramento, Nigel Worrall, who told me this about himself later:
My background is quite varied. I grew up in the Middle East and Africa.

After attending college in Durban South Africa, I started my TV engineering career at the Swaziland Television Broadcasting Corporation, in Swaziland, 1978.

In 1982, I moved to England and joined a post production house, before moving on to a company, called the SSVC (Services Sound and Vision Corporation). They are the equivalent of the American Forces AFRTS. They are now TLI (Teleport London International)

I was with the SSVC until 1995, as a Senior Television Engineer, with time spent in the Falkland Islands and Germany.

My wife and I arrived in the US in July 1995.

My first job here was with an Earth Station in San Francisco, called Spectrum Satellite, now part of Loral Skynet, as an Operator / Engineer.

I then moved to Sacramento and PACSAT, a small company specialising in SNG, DSNG and Post Production.

Now, as of March, I am here in San Diego with Tiernan Communications. Tiernan designs and manufactures, MPEG-2, 4:2:0 and 4:2:2, encoders and decoders, modulators, interfaces and ATSC HDTV encoding and decoding equipment.

It has a large worldwide and domestic market, selling SCPC and MCPC transmission systems, to networks and DSNG companies. The change to HDTV is going to be very exciting for us, as we have some leading products.

I am enjoying myself so far and think that San Diego is a great place. I would like to think that I will settle here. I wish, though, that I had been able to time the housing market a little better. Prices seem to be going up like a rocket.
Nigel--you should have arrived two years ago when you couldn't give a house away! Don't let yourself become a stranger. Here's wishing you the best in San Diego.

[GS]
---
SCHOLARSHIP FUND OPENED
Ken Tondreau of Tektronix made the first donation to the Chapter 36
scholarship fund in May. The money is earmarked to go to a regional
student who demonstrates an aptitude and desire to enter a broadcast
engineering career. Many technical students are forgoing knowledge of
RF and analog systems in favor of computer programming subjects, and
broadcast engineering jobs are going unfilled. With sufficient funds,
we hope to take applications this winter for the 1999-2000 school
year. Thanks, Ken!

Sponsorship renewals have gone well, with over 80% already having
renewed. Thank you all for helping to make the chapter possible.

[GS]

---
Shopping with Ron:
Getting Parts Via the Internet
by Ron Foo, Jacor Broadcasting

I could use some reflector lamps for the studios. The R-30 in the 50 watt size. I also need some Velcro wire wraps for the mic cables, 36 inch wire ties in black, 9 volts batteries, and a caster for a fence gate. Where to get them. Let's see.... I could just go down the street to the local home improvement center, look through crowded aisles to find a few of the items or make do with what they have. . Then stand in line for about 17 hours because somebody needs the SKU for an item that nobody can find in the store or.... I can do my shopping via the Internet!

This all started when I got a CD-ROM in the mail from Grainger several years ago. You know those guys, they're the one with the big red catalog with motors, pulleys, fans, and just about anything hardware or imaginable, is in that catalog. It said I could place an order via their Internet site. I just click on http://www.grainger.com . No phone calls, I can take as long as I want and their system tells me what I'm ordering. Pretty darned convenient. I like it. In fact I like it a lot.

Then there's that other big catalog, the yellow one that says: "McMaster-Carr" on the side. These folks have it together too. Need stainless steel fasteners of every sort? How about a new set of high voltage lineman's gloves for the transmitter site? Teflon spaghetti tubing is kinda hard to find, but look at page 59 in the McMaster catalog. I didn't realize that it came in about 20 different sizes and materials. Don't have that catalog? McMaster is pretty stingy when it comes to catalogs, but.... you can browse through their catalog on-line! Don't have the Adobe Acrobat reader? Get one from McMaster's site at: http://www.mcmaster.com . Once you have the part you want, just type in the number then review your order on one of their pages. It's a secure site, just like Grainger's, so there's an extra level of security for credit card purchases. But if you're like us at Jacor, you probably have an account. Just punch in your account and in a while, you'll have a e-mail confirmation about your order.

Both of these giants have excellent service and orders placed today normally arrive tomorrow at your door. it's really amazing how they can have such a wide variety of items in stock ready for shipping. Both companies have excellent customer service and their staffs often make your job much easier.
---
Spare Time Fun:
Is it Security, or Just Too Much Spare Time?
Oscar Medina found an interesting internet site--a live view of a transmitter location.

Check out http://www.wjue.com/engineering.html .

[GS]
---
Murphy's Corner
Murphy's First Law of Technical Sales: The cordiality of the client's secretary is directly proportional to the chances that your competition got the sale.
---
Internet services are generously provided by:
SBE Chapter 36 Newsletter © 1998.
For more information on how to become a sponsor, or to make suggestions, contributions, or comments, e-mail sbe36@broadcast.net . This newsletter was written and edited by Gary Stigall, but I appreciate your contributions. You're free to redistribute or quote, but please attribute our original material, as you would have us attribute unto you, even if you're just clipping for BMail. Updated 5/29/1998.